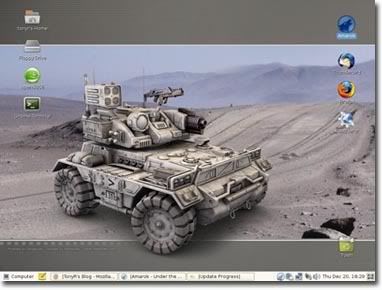 I'm really getting into using Novell's OpenSUSE 10.3 linux. Its the best version of linux Ive ever used and its still under development. Its not as easy to set up as Ubuntu, but its worth the extra work. I set it up on a Compaq Armada with this partition scheme:
/boot 100 MB

swap 500 MB

/ the rest of the hard disk
I like the Gnome installation more than the KDE, but that just a matter of taste. The Gnome is more sophisticated and professional looking and the KDE is louder and more stylish. Some great screenshots, info on partitioning your drive and installing OpenSUSE are available
here.
Light Armor 2045
wallpaper
by Dangeruss.